Stable Relationships
Equestrian riders and their horse relationships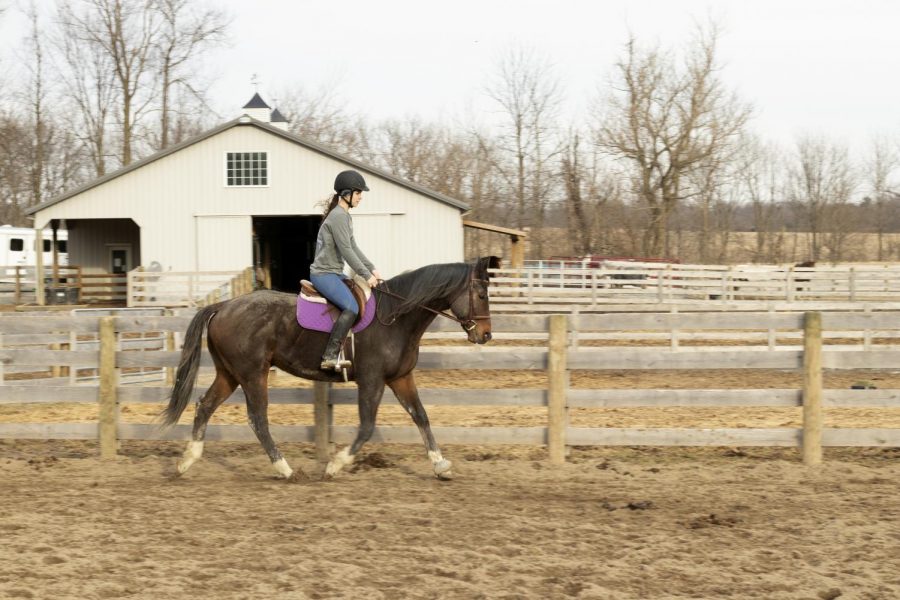 When you see a person riding a horse, it looks easy, like anyone could do it. What you don't see is the countless hours spent in lessons and training, as well as time developing relationships with the horses they ride.
     Equestrian sports are often overlooked and underappreciated.
     "I think a common misconception about riding is a lot of people think riding is just sitting on a horse, but there's a lot of work you have to put into it that not a lot of people recognize.  For example, I work at a barn where I'm responsible for cleaning stalls, making sure all the horses have water and food, and that all the horses are warm and healthy," Marin Hadley, sophomore, said.
     Their daily work and preparation are put to the test during competitions.
     "There is a lot that goes into preparing for the show," Callie Rheinheimer, sophomore, said. "In the morning I braid my horses and get them cleaned up. I show in Jumpers, speed, and height.  Jumpers, based off how nice the horse looks when jumping, and Equitation, based off the rider. I usually jump from 3'6" to 4'6" it just depends on the class and the horse."
     Besides the normal competitions, there is also IEA or Interscholastic Equestrian Association.
     "Usually ten or so teams meet up at a barn and bring a few horses," Hadley said. "They'll put all their horses' names in a hat and everyone riding will pick a name. You can pick any horse from any barn, and that will be the horse you show. IEA is great because it lets people who don't have their own horses or can't afford normal showing have that experience."
     IEA provides a chance for riders to test their skills and bond with teammates.
     "Last year I did IEA in Seattle and I qualified for Nationals in New York, and it was really fun because I had never been to a show at that level before. Our team didn't place well, but we had a lot of time to hang out and we won the sportsmanship award," Hadley said.
     Another important part of riding is having a good connection with the horses.
     "If there is not a good connection, I will not perform well, and the horse and I will be fighting the whole time. The rider also has to understand the horse, what it dislikes, how to fix a problem, and how to avoid a fight," Rheinheimer said.
     The connection between a horse and a rider is not something either forgets.
     "The main horse I used to ride in Seattle is Yukon," Hadley said. "I started riding him when he was six and he's turning nine this year.  I liked riding him because he was really silly, and was a challenge for me to ride. Since moving to Zionsville, I've gone back to visit him once, and it was really funny how he recognized me. Sometimes my friends call me when they're with him and he'll recognize my voice," Hadley said.
     Riders gain deeper relationships with their horses through their wins and losses.
     "My favorite part of riding is definitely the connection you gain when you and your horse are succeeding together," Emma Repenning, freshman, said.
     It is necessary for riders to spend time with their horses outside of competition.
     "It takes time to build [a relationship], but the more time you spend with your horse, and more time you spend trying to understand your horse, the more it will strengthen," Annie Yorgen, freshman, said.
     Through a good relationship, the horses also help their riders.
     "I struggle a lot with anxiety. It sounds silly, but when I'm with my horse, all my anxieties go away, and I don't have to worry about anything," Caroline Rent, sophomore, said.
     Equestrian sports take time and effort, as it is not just riding, but also developing bonds with the horses.
     "It takes time to become a good rider and it is not something you can learn overnight," Yorgen said.