Boys Basketball Faces Defeat Against Carmel at Regionals
On Sat. March 10, 2019, your Zionsville Boys Basketball team began their regional run at Logansport.
The boys team began their day with game one of a possible two-day game schedule against Huntington North. The Eagles led throughout the game finishing with a 52-41 win over Huntington North.
Scoring for the Eagles were Isaiah Thompson with 24, Ben Weidner with 10, Nathan Childress with 8, Brandon Vernon with 6, Anthony Scales with 2, and Hogan Orbaugh with 2.
After their defeat against Huntington North, the boys took on the Carmel Greyhounds in game two of the night. The winner of this matchup would proceed on to play against Penn at Lafayette Jefferson on Saturday for Semi-State.
The Eagles had a hard-fought battle throughout the game yet came up short to the Greyhounds with a final score of 53 to 39.
Your boys' basketball team's defeat was challenged by the sharp shooting of Carmel, which went 10-22 from the three-point line. The matchup of a 2:3 zone played by the Eagles was no match to stop Carmel from knocking down shots beyond the arch.
Carmel's tallest, and arguably most focused-on opponent was John-Michael Mulloy, a 6'9" center.
Using a 2:3 zone as the Eagle's defense is a smart move when a team has a powerful and tall center. It allows for the shifting of players across the paint to eventually double team said offensive player with the ball. However, according to the Indy Star, the Eagle's coach Shaun Busick states that focusing on Mulloy in the interior led to some open 3's to be taken by other Carmel players.
In the fourth quarter of the game, in which the score was still tight at a 36 to 27 Carmel lead, Senior Isaiah Thompson began cramping up.
With the Eagles leading scorer throughout the season hurt and the Carmel Greyhounds sharp shot for 3's, the Zionsville boys basketball team eventually faced defeat in the final regional round.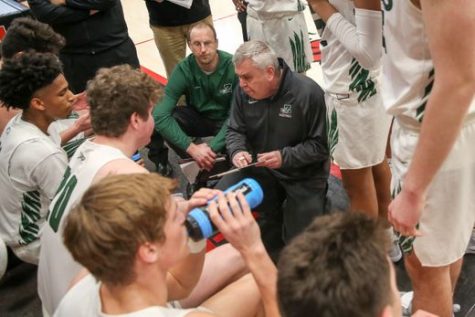 Scorers for Zionsville were Nathan Childress with 14, Isaiah Thompson with 12, Ben Weidner with 6, Anthony Scales with 5, and Ben Alcock with 2.