The Awakening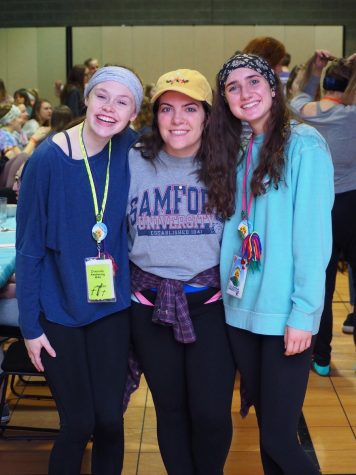 Maybe you attended it yourself or maybe you've just scrolled through the overwhelming amount of related Instagram posts, but you've certainly been living under a rock if you haven't heard about it: The Awakening. What is this event that has somehow been all over social media and yet has remained somewhat mysterious?
"The Awakening is a super amazing church retreat intended to help students feel loved and grow in their relationship with God," Gabby Nyce, senior, said.
Nyce has attended the retreat as a student in the past. This year, she was a part of the volunteer team that sponsors and serves new students.
"I wanted to serve for The Awakening because it was such a valuable experience for me and I wanted to be able to spread God's love to the other girls who go through," Nyce said.
Sophomore Ellen Densmore, who attended the retreat for the first time, said that, although she was excited for what she had heard was an amazing experience, she certainly had her doubts and anxieties going into it.
"I felt nervous because I didn't really know what to expect," Densmore said. "Also, you can't have watches or phones, and as a person who likes to have a plan for things and be in control of what is going on, I was worried about having to let go and go with the flow."
Hannah Wleklinski, sophomore, had also heard about The Awakening from friends but did not know much about the retreat before she went, as former attendees are told to keep as much as possible a secret in order to keep some surprises under wraps.
"I wanted to go to The Awakening because everyone who went said it was so amazing and life-changing, so I wanted to see what it was all about," Wleklinski said. "Going into the weekend, I was a little nervous because I didn't know what to expect."
Though she was initially a little hesitant, Wleklinski says that she ended up having a great experience.
"I would definitely recommend The Awakening to others because you meet so many great, loving people," Wleklinski said.
Densmore also agrees that she formed many new friendships during the retreat and would recommend it to everybody.
"It was awesome to make new friends and it is really an experience that has changed my life!" Densmore said.
While she is unable to spill all of The Awakening's secrets, Nyce affirmed that it is a weekend to remember.
"Since I can't tell you much, just know there is a lot of worship, prayer, laughter, tears, food, and joy!" Nyce said.