Boys Swimming Sectionals
After the boys swim team's successful night at sectional prelims on Thursday, they are ready for great results at finals this Saturday.
"I think after as well as we swam at prelims, that we have a lot more in the tank, and when we suit up on Saturday, we will have some fast swims," coach Scott Kubly said.
These athletes have high hopes for what this weekend at sectionals will bring. Freshman Jack Donovan got first place in the 200 freestyle at prelims, and hopes to break his time this weekend.
"I am excited to go for a personal record this Saturday," Donovan said.
At prelims Freshman Charlie Krone went a best time in the 100 freestyle.
"I finally get a place to show off all my hard work at practice," Krone said.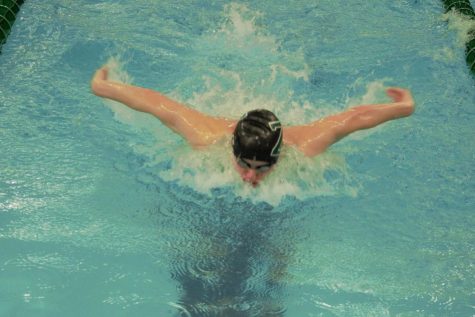 Junior Holden Bowlds is hoping to win the 100 freestyle at finals and make it to state. He also has high hopes for all his teammates this weekend.
"I think I swam pretty well at prelims, I went a 49 which is around my best time and on Saturday when I will be shaved and suited up I think I can go a 47, which is the state cut, and I think we will be able to send a guy to state in every event," Bowlds said.
Most of the boys did not suit up or shave for the prelims, so they are looking forward to racing even faster at finals. Junior Coleman Modglin swam on a full stomach at prelims, and is looking forward to seeing what time he is really capable of this weekend.
"Eating Panda Express before the race was a mistake but I'm super excited to swim on Saturday next to my best friend Caleb Berrong," Modglin said.
Senior Jack Jones is excited to finish his last year of swimming at the sectional finals on Saturday.
"The season has been pretty good so far and I'm excited to see how sectional finals go," Jones said.