All About Cheer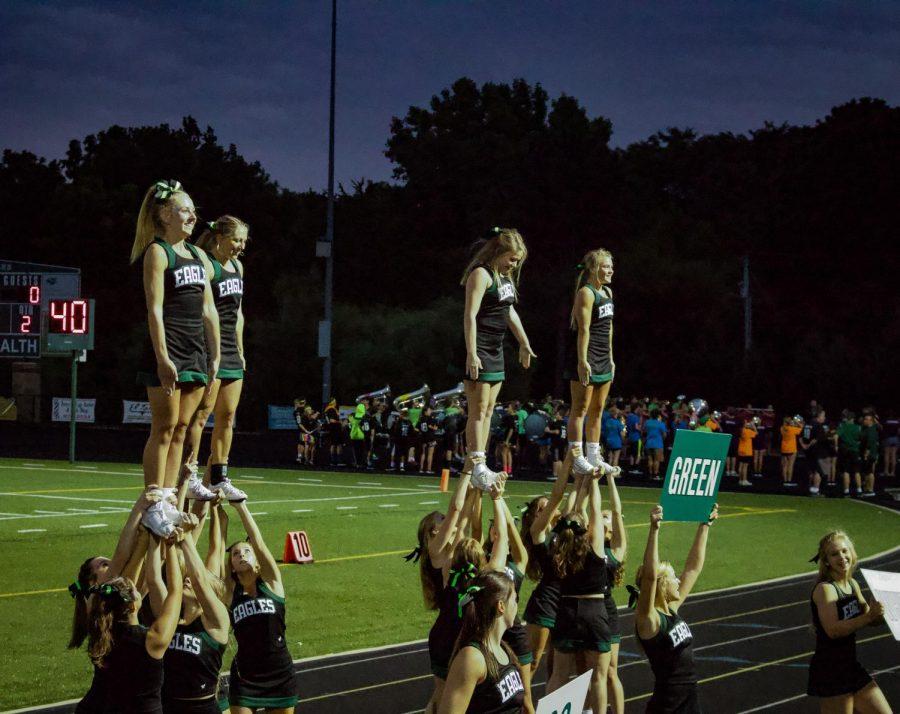 Cheerleaders have always been classified as the peppy, dumbfounded girls or boys in the movies we see. In reality, cheerleaders have to learn to throw girls up far into the air, catch them, do insane flips, and learn to toughen up when a whole body is dropped onto them. A quick inside look of what cheerleaders do at ZCHS during practice or at games shows how persistent and tough cheerleaders are.
Shelby Thatcher, a freshmen cheerleader, explains that cheerleading is very complicated and one of the most dangerous sports. Stunting, when someone is thrown into the air and doing positions and twists, is one of the most dangerous things in cheerleading. One mistake and someone could be seriously injured. The flyer has to be strong and tight in the air while the girls holding her up have to also be strong so the stunt doesn't come down. Tumbling, where you do many insane flips on the ground, is also a crucial part of cheerleading. To give the audience something fun to look at.
"My favorite part about school cheer is defiantly the games and doing fun and unique tumbling," Thatcher said.
Mallory Thompson, a junior varsity cheerleader, explains that cheerleading is complicated sport no matter if it's a competitive cheer team or school team. Cheerleading requires a lot of different techniques between motions, jumps, tumbling, and stunting. Cheerleading takes a lot of time, commitment, and determination to do some of the skills within cheerleading. Thompson explains that an everyday practice for her would be splitting up into squads to learn many chants, working on tumbling, and working on crowd-pleasing stunts.
"Cheerleading isn't just waving our pom poms around, but it has a lot more to it," Thompson said.
Leah Englert, a Varsity cheerleader, explains how being under the Friday night lights cheering is so amazing because you get to see everything from a different perspective. You get to watch all the energy the boys football team and student section has, and see all the crazy costumes everyone is wearing for the themes. Also, you are able to watch the powder being thrown which is a moment you truly can't forget. Englert also explains that every year, ZCHS cheerleaders host a clinic for young girls to come in, learn some cheers, and then perform them in front of everyone at the game.
"My favorite part of being a high school cheerleader is cheering at the games, and seeing everyone having fun and full of energy," Englert said.