To Regionals and Beyond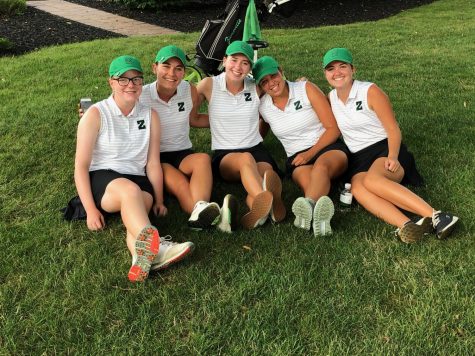 Last year, the Zionsville High School girls golf team won the state tournament, and this year they are hoping to continue their legacy as they go through the process of qualifying for state.
"I think this season has been a great season. I think we've been our best and really trying hard to push towards success. I think overall we're doing a great job this year," Lauren Kaltenmark, sophomore, said.
Earlier this year, the golf team won their state preview. Last weekend, the golf team won sectionals, the first tournament involved in qualifying for state. They ended up shooting a 289 with one of their players, Annabel Pancake, shooting a 64, seven under par.
"My experience at sectionals was fine, I wasn't nervous I was just ready to play. Even though I didn't play my best I still had fun playing and my teammates shot great scores, so I was really proud of them," Kaltenmark said.
So far, their season has been looking good with the girls winning every match and most tournaments, only finishing second in one.
"I feel pretty good about winning state! I know we have all been putting in a ton of work. But we are also aware there are some amazing teams out there with amazing golfers," Abby Thielbar, junior, said.
Winning state last year was quite the big deal, it was previously something that hadn't been done for over seventeen years.
"I feel like this year is just slightly different from last year. Obviously, we lost two seniors this year but we are still a solid team. Our team is still really close even though we lost those two seniors," Kaltenmark said.
This weekend, they will be playing in regionals, the final qualifier for state, at Smock golf course starting at eight in the morning. Next weekend, they will be playing in state at Prairie View golf course.
"I feel pretty confident," Kaltenmark said, "I know the course well and I have great teammates that I'll know will shoot great scores. Overall feeling pretty good,"
Following state finals, the golf season will come to a close. The team has two seniors who will be graduating this year, Avery VonDielingen and Ellie Hine.
"My favorite part about the team is how well we all get along. My teammates are by far some of my closest friends and we always have way too much fun together," Thielbar said.
Hopefully, the team will be able to win regionals and continue on to win state next weekend.
"I feel like we have a good chance of winning this year but there is good competition out there," Kaltenmark said, "We know it's not going to be easy but I think we can do it."