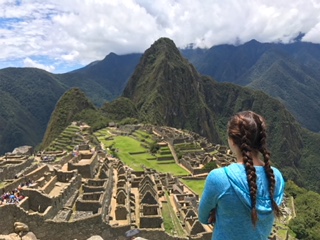 Students in Zionsville will end up all over the globe this fall break. You'll find some here in Zionsville for a classic staycation, some laying on the beach in a tropical destination, and some in touring busy cities, or seeing historical sites.
Last fall Tara Harmon, sophomore, got to hike Machu Picchu. This year Harmon will be going on a cruise to Jamaica, Haiti, and Mexico. She can't wait to see these new places and have time to de-stress.
"I'm most excited to relax on the boat," Harmon said.
Cooper Cecil, sophomore, will also be going to Mexico and taking a particular interest in marine life.
"I'm going on a cruise with my grandparents and cousins and I will be visiting Costa Maya to help the sea turtles, which is what I'm most excited for," Cecil said.
Some ZCHS students will be flying all the way to Europe next week for their fall excursions.
"I am most excited for fall break because I'm getting to go to Greece. I'm going to Athens and Santorini, I'll get to see all the cool architecture and go to many cool beaches," Alyssa Hancox, sophomore, said.
Sophomore Caroline Todd, will be traveling to Germany and Austria.
"I'm most excited to see Dachau, It's the second largest concentration camp. I've also been so interested in the Holocaust because it's been my favorite thing to learn about since elementary school," Todd said.
And of course, many students will be staying in the warmth of their beds for a majority of the week.
"I'll probably sleep when I'm at home cause all of my friends will be gone," junior Leah Englert said.
Many of our seniors still have big decisions to make regarding college and will be traveling to different places in the United States to visit potential schools. Senior Connie McCarthy will be visiting Syracuse, Loyola Maryland, University of Richmond, and Duke next week.
"It's going to be so fun to see a lot of different cities," McCarthy said.