GlowCo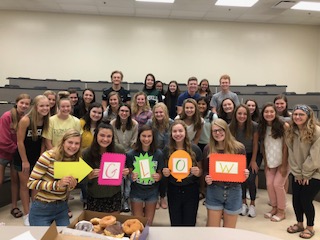 Student Council has been working hard to create another great homecoming. The usual home blackout game will take place on Sept. 14, and the Homecoming dance will follow the next night.
"We have a really cool glow-in-the-dark theme planned that is sure to be very different and unique to what we've done in the past," Katelyn Soards, homecoming chair and senior, said.
Students returning to homecoming this year will see a few new changes from the past years dances.
"We'll be having the dance in the field house this year instead of the Freshman Center Gym which we are really excited about," Soards said. "Hopefully moving to this bigger space will allow for us to better accommodate our school's growing population."
A change in the location of the dance this year should make for more a more comfortable night. Student Council has lots of ideas on how to decorate this bigger space.
"I feel like having Hoco in the field house is a great idea because gives us a lot more space and a lot more options for decorating," student council member and sophomore Lily Cross said. "We are also opening the wedge for food so it's going to be a good time."
Student council is expecting a big turnout at this years dance.
"We are really looking forward to trying so many new things for homecoming," Soards said.
As usual, students are excited for getting all dressed up and having fun with their peers.
"I love dances and yelling all night with my fellow eagles," Cross said, "The theme is going to be amazing and I can't wait."
Soards has promised that the usual Confectioneiress cupcakes will be there, so mark your calendars!