Mr. Zionsville 2018
By Mari Heigl, Student Life Editor
February 4, 2018
Hang on for a minute...we're trying to find some more stories you might like.
Fifteen emcees, thirteen contestants, six directors, one king.
Mr. Zionsville, one of the most highly anticipated events of the year and a major fundraiser for prom, has just recently gone by. On January 25th the Zionsville community came together in ZCHS' Performing Arts Center to see a show that took seniors many months to prepare.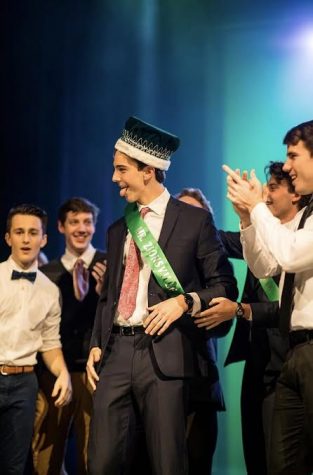 "It's crazy to think how we have been working on this year's show since last year's show, but in the end it seems pretty worth it once we see the crowd's reaction," Emily Maguire, senior and one of the three senior directors of Mr. Zionsville, said.
Senior Ellie Lewis had never gone to Mr. Zionsville before and was not disappointed when she finally did.
"Going for the first time [this year], I wasn't really sure what to expect; however, I loved every minute of it. I was really impressed by all of the hard work that went into it, and I really liked watching everyone perform different acts," Lewis said.
While preparing the show was a lot of work, it was still very rewarding for the seniors putting on the show.
"I honestly had so much fun rehearsing and practicing with the other people in the show because we all helped each other improve our skits. It was so exciting to see the show all put together because the skit writers didn't get to see the contestants dance or their acts until they had finalized them the last week. It was so exciting because I knew how good the show was gonna be and I got to see it before anyone else," Madeline Richey, senior and skit writer who played a Zionsville Mom, said.
The show itself is made up of an opening dance number, talent acts from all of the contestants, skits written and performed by other seniors, and interviews with the contestants as other people varying from Forrest Gump to Ray Cortopassi to an inflatable tube man used for advertising.
The thirteen contestants who competed this year were Declan Nelligan, Joe Luczak, Noah McCarty-Slaughter, Ritik Mishra, Sam Edgell, Tyler Milby, David Ashton, Sam Schein, Nick Nelson, Joe Kerr, Hanks Waller, Cade Williams, and Drew Cortopassi. Initially, Andrew Broecker was also supposed to compete but after tearing his ACL, had to drop out of the running because of his inability to be in the dance numbers. However, this did not keep him from being extremely involved in the show like many other seniors.
During the show itself, five awards were given out: Mr. Zionsville, Mr. Talent, Mr. Spirit, People's Choice, and the Crystal Apple.
The Crystal Apple is an award voted on by the participants of the show selecting a ZCHS staff member who they find influential and would like to acknowledge. This year's winner was Steve White, a member of staff who frequently works in the cafeteria.
Mr. Spirit is also voted on by the contestants and is the contestant who was consistently enthusiastic and positive during the long hours of preparation taken to put on the show. Hank Waller whose talent was stand-up comedy was this year's winner.
"Winning Mr. Spirit was a great honor because all the guys that I became so close with voted me most congenial. What an incredible experience it was!" Waller said.
The People's Choice Award is designated by which contestant's bucket raises the most money during intermission. Declan Nelligan whose talent was playing his guitar won.
Mr. Talent, the contestant with the best talent chosen by the judging panel, was Ritik Mishra, who played a piano rendition of Despacito.
And finally, this year's overall winner who received the title of Mr. Zionsville was Drew Cortopassi.
"The adrenaline and happiness of that moment was greater than anything I've ever experienced. This is such an incredible group of people and was truly a privilege and honor to spend so much time with them," Cortopassi said.