Girls' and Boys' Varsity Basketball's Successful Season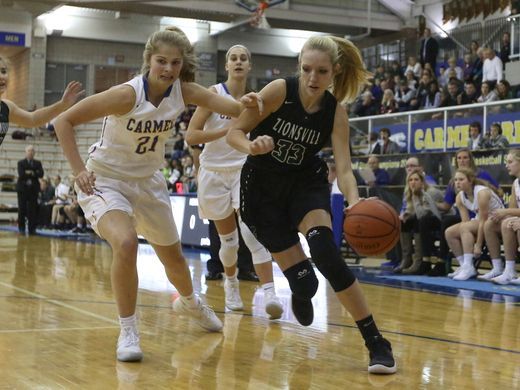 The girls' and boys' varsity basketball teams have been very successful this season, with the girls' team having a record of 16-5 and the boys having a record of 12-2.
The girls' team has also been ranked 16th in the state. Delaney Richason, junior and member of the team, said that she was happy with this season so far.
"The games have been going well," Richason said. "We had a couple of tough losses early but are doing really well now. As a team, it took us a couple of games to really play together but now we are working together really well and it's so fun to be around all of the girls."
The girls won against Brownsburg last Friday. Junior and team member Maddie Nolan expressed how proud she was of her fellow teammates.
"I think we have really come together and done a lot more than what people thought we could," Nolan said.
The boys' team has also been doing well this season with a record of 12-2.
Riley Bertram, senior, said that he also felt like the team has been very successful this year.
"We have had a successful season so far with many players contributing in various ways," Bertram said.
The team has only lost two games this season and are working hard to prepare for the state tournament.
Senior and team member Will Alcock shared his confidence for his team and enthusiasm for the upcoming state tournament.
"We've gotten a little stagnant, but all of our mistakes are very correctable and everyday we're finding ways to fix them and grow," Alcock said.
The boys also defeated Brownsburg on Friday, shaking off their last losses. Despite the past two losses, Bertram says he looks on the bright side whenever the team doesn't win a game.
"My favorite part of the season is seeing how the team reacted after a tough series of losses," Bertram said. "We didn't feel bad for ourselves. We got back to work the next day and continued to prepare and improve for the post season."
The boys are hoping to get Zionsville its first boys basketball sectional title in 22 years.