Holidays In Your Hometown: What You Can Do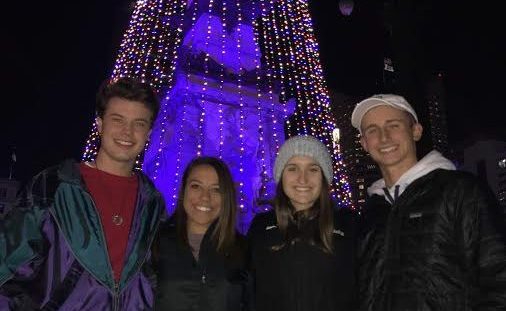 By Mari Heigl, Student Life Editor
December 6, 2017
Hang on for a minute...we're trying to find some more stories you might like.
From cleaning to prepare your house for relatives, to feeling sick, to the chilling cold, wintertime can be a depressing time of the year. However, it doesn't have to be. There are plenty of fun activities to partake in during the holiday season over the weekends or after finals.
The Carmel Christkindlmarkt is what's all the rage this year. Christkindlmarkt is a traditional German Christmas market. In the quaint setting, there are holiday foods, drinks, gifts and decorations, some of which having come directly from Germany. One of the market's primary attractions is its ice skating rink. So for those looking for an alternative to the regular indoor skating rinks or other unique takes on the winter holiday season, Christkindlmarkt would be a great activity.
Another great activity that is very popular, especially on Instagram, is Christmas at the Indianapolis Zoo. This year is the zoo's 49th year of getting decked out with Christmas lights. Besides just seeing the animals, there are activities that take place in Santa's Village in the Bicentennial Pavilion.
Similar to Christmas At the Zoo is Winterlights, where you can take a stroll through beautiful scenery decorated with Christmas lights at Newfields. You can go to Winterlights now through January 7th. The display is put on through the Indianapolis Museum of Art.
For those with an inclination toward music and theater, there are multiple plays that come to Indianapolis during the holidays that are perfect for getting into a festive mood, one of which is The Nutcracker. The Indianapolis Ballet will be presenting this infamous show at the Old National Centre on December 22nd, ticket pricing varying.
Charles Dickens' A Christmas Carol is yet another holiday show in Indianapolis, with performances happening between November 18th to Christmas Eve at the Indiana Repertory Theater.
Plus, would it truly be the holiday season without getting a picture at the Circle of Lights? At the center of Indianapolis lies the Soldiers and Sailors Monument and every winter, the 242-foot-tall monument is decorated with lights.
So whether it's spending the holidays at home with family or going out with friends, Indianapolis offers a multitude of options to get you in the holiday spirit.