Harbinger Interviews: Harrison Petts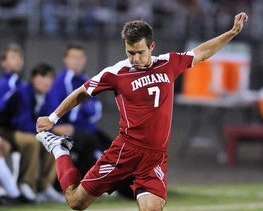 Hang on for a minute...we're trying to find some more stories you might like.
Petts is a soccer player that was a champion in the High School State Championship, twice in the Club National Championships, and the NCAA National Championship. This ZCHS alumnus elevated Indiana University's soccer team, carrying them all the way to a NCAA National Championship.
In your eyes, what are your greatest accomplishments in soccer?
I was fortunate enough to have a lot of great experiences in soccer at many levels including two Club National Championships, one High School State Championship, one NCAA National Championship and many others along the way. I also played for the U.S. Youth National teams during my career, which gave me the opportunity to represent my country in tournaments around the world and play against some of the best soccer players and Nations. I also had the opportunity to graduate from High School a semester early and live and play in Argentina at a professional club (Estudiantes De La Plata) during the Spring Semester of my senior year of High School. Overall, I would say that the great friends, players, coaches, etc. that I have met along the way is the most rewarding. Also the leadership and personal development skills have been extremely beneficial, as I have started my career in Finance.
While in high school, did you play on club teams or the school team? (If club
teams, which ones) And how did that affect your career?
Club and High School. I played for many different club teams throughout my career from local teams in Indy to some of the powerhouses in the Midwest from Chicago. Ultimately I played for Carmel United Academy (now Indiana Fire) and we won two national championships. It was a great experience in both soccer and personally. These championships really put Indiana on the map for club soccer.
Describe your student-athlete experience at ZCHS and in college.
I loved being a student-athlete in both high school and college. Although at times it is difficult to miss class / school and balance schoolwork while traveling, I believe athletics provides a structure that can help student-athletes in school and in life. It's also great to be able to play for your school (whether high school or college) and represent your friends, peers, town, or university in competition.
If there were a single or a few moments that shaped you and your soccer
career, describe them.
It's difficult to boil down a 20-year career into a couple of moments, but I'll do my best. Some of them are general like traveling in the car/bus with friends and family to practices and tournaments, but some are specific:
– Final seconds of High School State Championship
– First time getting called in to the US Youth National Team Camp
– Final seconds of 1st Club National Championship
– Final seconds of NCAA National Championship
– First morning of pre-season practice at IU
– First National Anthem before a game with the US National Team