Best Buddies Holiday Party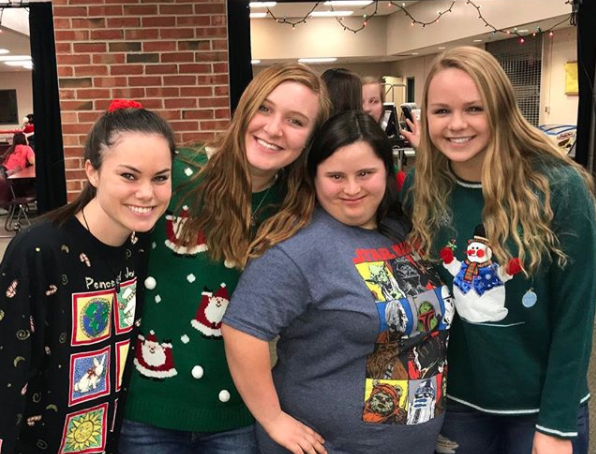 Hang on for a minute...we're trying to find some more stories you might like.
Thursday, December 15, Best Buddies threw their annual Holiday Party, one of the club's most highly anticipated events.
"It made me so happy to see all of the buddies to have so much fun. I loved watching all of [the buddies sing] karaoke and dance. I had tons of fun," Frannie Pittman, sophomore, said.
The club catered sides like mac and cheese, mashed potatoes, and green beans from Sweet and Savory to accompany chicken nuggets catered by Chick-Fil-A.
"The food at the holiday party was amazing! [My buddy] Evan loved the chicken nuggets," Anna Kelley, senior, said.
Students arrived to the high school after 5:30 to the main cafeteria where they hung around with their groups, conversing and coloring. After eating, students dispersed around the cafeteria and sang karaoke, continued to converse, or decorated sugar cookies.
"I really enjoyed the Best Buddies Holiday Party because of how much fun [my buddy] Rose had decorating cookies. My group and I had so much fun watching her decorate, talking, and coloring," Mollie Krone, sophomore, said.
It seems safe to say that this years' Best Buddies Holiday Party was a success.