Eagles Take the Win in First Game of the Year
On Aug. 18 the Eagles slithered in a 33-32 victory against the Pike High School Red Devils. The Eagles started strong, finishing the first half 14-7 with Andrew Broecker, senior quarterback, as the leader of the offense. As well as this game being the first regular-season game, it was the first opportunity for the senior class of 2018 to be student section leaders.
Moral was high for the team as they marched back into the locker room with neon powder rising from the stands behind them.
"The atmosphere is incredible. It's awesome to collectively cheer with all your best friends for the team you pride yourselves in," Grace Callahan, senior, said.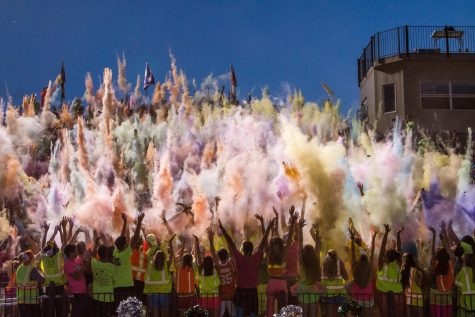 The student section was packed to the maximum capacity. The lovely sound of "freshmen, move back," was rarely needed, for there was no space for the rookies to retreat to. The leader's area was also packed, leaving the seniors stored like sardines between the green metal fences. Frequently, this section turned into a sort of mosh pit, hyping the team to take the win.
"The key component was all three units on the field playing with a purpose. The purpose [was] winning. . . . Offense, defense, and special teams stuck to their job all game long," Andrew Mogel, current play caller, said.
Broecker and his offense kept the fire burning with multiple influential passes and runs. Broecker completed pass after pass, even while on the run from hungry defenders, leaving the spectators in awe and his teammates ready for war. With the help of their classmates in the student section, the boys kept pushing and pulled out with the win.
Daily practices and a sustaining brotherhood held this team together through the hardships of this game, while the student section dwellers bonded over the human need to get rowdy.