Men's Volleyball saddles up for the road to victory
Nature walks, sunset drives around town, and constant chemistry: a perfect description of a thriving relationship, and the ZCHS Boy's Volleyball team.
"The team is really just a brotherhood. It's like a family. I feel like those two coaches are my two dads. I'm on a team full of brothers; we would all take a bullet for each other," Quinn Kennedy, senior varsity player, said.
Throughout the season, there have been gruesome battles, wins and losses, bringing the team closer to their unity of brotherhood. Kennedy, middle, and Jordan Pugh, outside, are just two players that contribute to the well-oiled machine that is boy's varsity volleyball.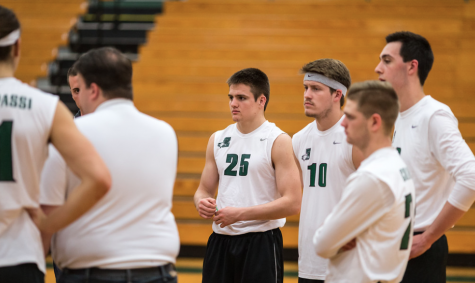 "It's been a roller coaster of emotions, and we are ready to head into the tournament with smiles on our faces," Pugh said.
The spring season is the time for these athletes to showcase their bumps, sets, and digs to their peers, teammates, and rivals. With their attention split between school and volleyball, the team is full of excitement to be approaching the final stretch, and see their hard work pay off.
"There is tons of chemistry [on the court]. We all like to get it done together," Pugh said.
With the season ending, and the final tournament coming up, the boys are working on their skills, on the court and off. Whether it is getting the job done in practice and training, or forming a special bond off the court that binds the team together to work as a unit.
"At Southport, we took them into five sets, but we still lost. It was a hard fought game, but we lost," Kennedy said.
In the gym, on the court, Kennedy and Pugh know it is go time, ready to take on their opponent with all the energy they can muster. In this time of high stress, it is the special bond their team has formed that pulls out the win, and maintains their winning record. The boys are 11-7, ready to take on the next battle that comes their way.