But the Children Love the Books: Odd Thomas
"My name is Odd Thomas, though in this age when fame is the altar at which most people worship, I am not sure why you should care who I am or that I exist."--Odd Thomas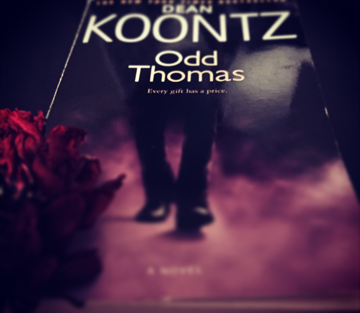 Hang on for a minute...we're trying to find some more stories you might like.
It's definitely not Halloween, but everyone likes a good ghost story. Everyone has heard the story of the protagonist who can see ghosts and has to help them or save the world, but there are very few who have read a novel about a fry cook who lives in the middle of nowhere, helping cops catch murderers by seeing ghosts of their victims. In Dean Koontz series, Odd Thomas, you get just that.
Odd lives up to his name, in that he regularly sees ghosts. Not many people know about his "gift," but those who do are very accepting of it. Everyone in the town loves and knows him as the strange fry cook. No ghosts stay very long around him. They come to him for help getting to "the other side" except for one. A ghost that never seems to move on is the famous Elvis Presley and he becomes a sort of friend to Odd. In the novel, the ghosts can't talk, but Odd always finds a way to help them move on.
In the first book of the series, Odd sees hundreds of bodaches, wolf-like spirits that are drawn to oncoming doom and destruction, and realizes that a huge catastrophe will unfold in a matter of days or hours. It is up to him to figure it out with the assistance of his ghostly acquaintances, his visions, his girlfriend, Stormy, and his natural sense of finding what he's looking for.
This novel is rigged with a mystery that turns you in every direction. Through his journey he uncovers truths he never wanted to know and heaps of tragedies. He finds the will to continue on even when his situation looks desolate and finds the courage to face his greatest fears.
For those who are skeptical about reading this seven book series, the movie of the first book is on Netflix and I highly recommend watching it (after reading the book, of course).