The Greatest Gatsby Comes to ZCHS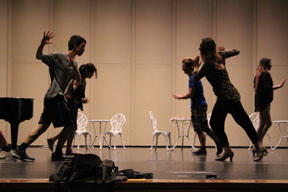 Hang on for a minute...we're trying to find some more stories you might like.
Under the bright lights of the Performance Arts Center, Noah Boehm, Elizabeth Jolly, Sam Shipe, Libby Kilway, Evan Wang, and the cast and crew begin to polish off their performance skills for the play The Great Gatsby. The Great Gatsby will be performed in the Performance Arts Center on April 28 and 29 at 7 p.m. The cast has been dancing, acting, sweating and jazz-handing their way through two-hour rehearsals every day.
"We are still working out being in the moment and making sure everything is set. It does feel pressing, but I'm confident that when we rehearse it enough it'll be flying colors," Wang said.
In a time of intense pressure between cast, crew, and directors, the love still shows. Dance partners indulge in playful conversation between scenes, along with heartfelt hugs. While Jay Gatsby, played by Evan Wang, and Tom Buchanan, played by Sam Shipe, yell at each other on stage, they give each other pointers between scenes.
"I find myself lost in the scene . . . . I feel ready, but at the same time, I don't, like sitting in class and thinking about the play and thinking oh my gosh," Kilway said.
In this tribute to the roaring 1920s, the story contributes dancing, smoking, and a few nasty arguments. Kilway and Jolly groove to jazz in their high heels with partners Wang and Boehm.
"I kind of forget there are people out there. It's like I become Jordan Baker," Jolly said.
As the cast perfects their lines on stage, the directors, Elana Cutter and Michael Tetmeyer, tie up loose ends on and off the stage. Cutter oversees all the progress that is being made and the cast knows that perfection is key. With the play's debut approaching, the whole team feels the stress, encouraging them to put on the performance of a lifetime.
From the front row, one can see every hand gesture and key facial expression that goes into the complexity of this story, but once one looks at the stage with the whole group in focus, the beauty of this talented unit is formed. Boehm, Jolly, and the group of talented young performers make sure every movement, line, and body gesture are on point, in the hopes of portraying the beauty of the play in the way the story deserves.