Team of the Week: Girls' and Boys' Swimming
Closing out the season with a splash.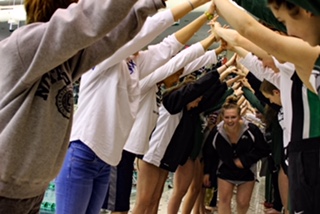 The Zionsville High School Swim Team is close to the end of their winter season, with just two more meets to go until the championship races. The Girls' Swim Team is comprised of 35 swimmers and their season has gone pretty well with a win to loss ratio of 5-3; placing 3rd out of 7 at both the Hall of Fame swim meet at Franklin and the HCC Invitational at Brownsburg. The Boys' Swim team is comprised of 34 swimmers and has had a phenomenal season as they are still undefeated for 2016-2017.
Swimming upwards of eighteen hours a week, the team is working continuously to strive for excellence both in and out of the pool. Morning practice attendance is a must, as well as weekdays after school and Saturday mornings.
Senior Lizzy Ratz, who just began swimming this year, said that the commitment that swimmers have to the sport is remarkable.
"My favorite memory from this season was jumping into the freezing cold water at morning practice and realizing just how insane the swimmers were to do this every single morning… then realizing I was becoming one of those crazy swimmers," Ratz said.
All of the hard work that the swim team puts in is sure to pay off, with the girls' team hoping to win their fourth consecutive first-place Sectional title, and the undefeated boys' team slated to win State. Other championship meets include the annual JV Invitational hosted at Noblesville as well as girls' State and boys' Sectionals.
Several seniors have also committed to pursue swimming after high school, with scholarships to colleges such as Yale, IU, and Purdue. Cassidy Sampson, senior, who also participates in show choir and student council, is planning on swimming at Purdue—following in the footsteps of her older sister Cally, a member of the Boilermaker Swim Team.
"Swimming has been such a big part of my life, and I am so thankful to have competed in this sport all four years of high school. My high school experience would definitely not be the same without swimming, as it has given me some of my best friends and favorite memories," Sampson said.
With their hard work ethic and intense schedule, the Zionsville swimmers are definitely a commendable team for "Team of the Week". If you would like to come out and support the Eagles here at ZCHS, the next home meet is Girls' Sectionals, held in the high school natatorium on February 2nd and 4th.