ZCHS Dominates Fall Sports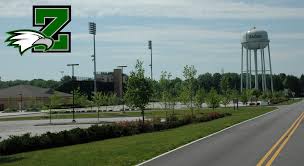 This has been an amazing year for fall sports in Zionsville. From our state running Cross Country teams to our state champion Marching Band, we swept the board. Our Football team had a great season making it 6:6. They went all the way to Regionals which is no small feat. The student section was always roaring with support for our Eagles.
The boy's Cross Country team went farther than they have in the last few years finishing 19th in State.
"It was great being a part of the team because we were all really close since we start training for the season in the first few days of summer," Ayrton Birnbaum, junior, said.
The team would like to thank Coach Porras, Coach Brake, Coach Sterling, and the legendary Mike Cole.
The team would like to thank Coach Porras, Coach Brake, Coach Sterling, and the legendary Mike Cole.
The girl's Cross Country team also had an awesome season with a few girls placing in State and the team placing a historic fourth in State. Annie Pappas, a junior, had plenty to say about their season.
"Seeing my teammates every day makes training so much easier, and we really push each other. We have pasta nights every Friday before meets," Pappas said. They had won in Flashrock a big meet they had never won before. They also won Harrison which in all the time Zionsville has been running it they had yet to win. This was a great year for the girl's Cross Country team.
They won in Flashrock and Harrison, two meets Zionsville have never won before. This was a great year for the girl's Cross Country team.
The Marching Band had an insanely successful season. After a rigorous summer training camp, they went hard at every home game preparing for competition season. Then fully prepared they went all the way and won state. This was followed by an insane celebration which included a bonfire in which one of the boats from last year's competitions happened to "fall" into the fire. Mr. Landrum even posted one of the most American pictures ever to his Instagram of him atop his lawnmower with an American flag and his state champion trophy. They worked hard and deserved to play hard.
The girl's golf team also did a great job this year. They scored awesome and crucial victories such as the JV team beating Westfield by one stroke or their victory against Carmel. The varsity also ended up placing fourth in State.
"Being a part of the team was a great experience because all of the girls could really rely on each other," Lizzie Byrd, sophomore, said.
Through the season the chemistry of the team got stronger and bonds were formed. They set out to prove golf isn't just a sport for men. They went out had fun and ate grapes from their Ziploc baggies (it's a golf thing).
Last but certainly not least, the girl's Volleyball Team had a historic season going further than Zionsville's volleyball program had ever gone before. The powerhouse team finished with a 27-9 record and lost against Crown Point in Semi-State. Setter, Mammie Garard, was also named the Indy Star Sports Player of the Month.
Overall, Zionsville did amazing in fall sports crushing the competition. We can't wait for all the wins in the future! Go Eagles!