Review of Captain America: Civil War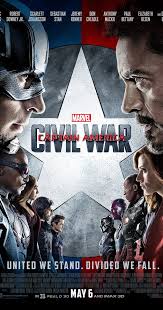 Civil War is directed by the Russo Brothers and stars a whole lot of people. The main players are Captain America played by Chris Evans and Iron Man played by Robert Downey Jr. This movie is all that Batman VS Superman wasn't, fast paced and action packed with an actual reason for in-fighting throughout the superhero team. The movie is pretty great. It has some great action, some really good drama, some interesting new characters, and a serviceable villain.
The movie starts out with an incident that pushes the governments of the world to make a law that will regulate the Avengers, some accept it, others reject it. Then the fighting ensues, and we get some brilliant action scenes, like the one in the airport, and some okay, like the multiple chase scenes that are either too hard to follow or have so much CGI it looks like a computer game.
The new characters that are introduced, Spider-Man and Black Panther, are interesting, with new powers and motives. They are also introduced in an organic and believable way, not shoe-horned in to make way for their own movies.
Lastly, the villain of the movie, Baron Zemo, isn't the best. He plays his role and then disappears for a quarter of the movie to re-appear for five minutes, do something evil, and disappear again. He has no lasting presence and his side plot (the main plot) is overshadowed by the drama and action of the civil war.
Overall, I would highly recommend this movie if you are caught up in the Marvel cinematic universe or even of you've only seen a few of their movies. But, if this is your first time with a Marvel movie, I would take a step back and get caught up because you will not understand any of the drama, character interactions, or major plot points of the story.