Nikon vs. Canon
The debate among photographers for years - Canon or Nikon? Here, the biggest pros and cons are listed out to find the perfect camera for you.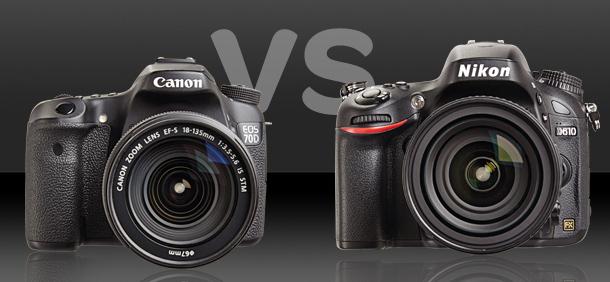 By Robert Takesue, Staff
May 11, 2016
For all photographers, the camera is obviously an essential tool in creating photographs. For many photographers, a DSLR, SLR or mirrorless camera is the preferred choice. These cameras offer higher image quality, but at a high price. Starter DSLRs go for 300 dollars while professional cameras and lenses can cost upwards of ten thousand dollars, according to Digital Camera World. In the current market of DSLRs, the two biggest companies in constant competition are Nikon and Canon. Both companies showcase a large range of camera bodies and lenses, but which company should you go with? This is a comparison of photography giants Nikon and Canon, in which the pros and cons of each will be evaluated to help you find the perfect camera.
Sensors
   According to the Shaw Academy, Nikon's latest cameras have developed sensors that decrease distortion in fine lines and patterns. This allows these cameras to generally perform better in capturing detail and in low light. Canon's sensors put more emphasis on packing megapixels into images. Basically, you generally get a higher resolution image, that allows for larger, clearer prints.
Speed
   When you are in the field, being able to focus quickly and sharply on the subject is paramount. Also, being able to take multiple bursts of photos is important in capturing moving objects. Higher end Canon cameras, such as the Canon EOS 7D Mark II is often the choice camera for sports photographers for its rapid 10 picture per second burst mode. This is 4  pictures per second faster than a Nikon camera at the same price range (around $1,200), according to digitalcameraworld.com. Even though these are rather high-end cameras, this trend can be seen throughout all Nikon and Canon cameras. Canon cameras are faster than most Nikon cameras in the same price range.  
Operation
The user interface options in both Nikon and Canon cameras are similar, but vary in every model. Higher end cameras will offer more features, such as special effects and filters in the camera. Newer cameras also offer WiFi capabilities, and can sync with your cell phone or laptop. The user interface that you are most inclined to use is based on your own opinion, but the quality and ability of the software of the camera go up along with the price.     
Video
   If you are looking for a cheaper camera with higher video quality, Canon is the way to go. Canon offers better autofocus tracking while recording, and has more buttons and a design that caters to videographers. Although, Nikon has made several affordable cameras that shoot in 60 frames per second, creating a visibly smoother picture, while Canon offers cameras with 30 fps in the same price range.
Handling/Quality
It's the subtle differences in handling between Canon and Nikon camera bodies that invariably have the biggest impact in helping you decide which system is right for you. Nikon's lens mounting, focusing, zooming and exposure compensation are all carried out in the opposite direction to Canon's and it can take time to grow accustomed to this change in handling if you decide to jump ship to the 'rival' camera system.
Whether you decide to go for a Nikon or a Canon, or maybe an entirely different brand of camera, it is important that you are comfortable using the camera before you go taking pictures. The extra features that camera brands offer can help a photographer, but in the end, it is the photographer taking the picture and telling a story.