But the Children Love the Books: Every Fifteen Minutes
"I plan everything. I set everyone in motion, and when the moment comes, I strike. I always win in the end. They never see me coming. Know why? Because I am already there." -Every Fifteen Minutes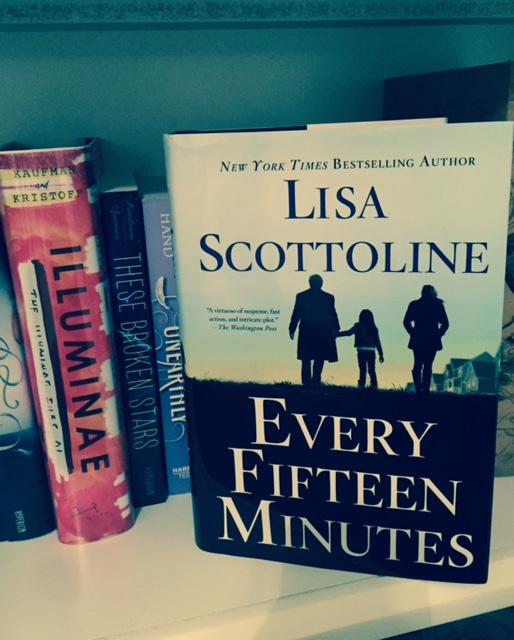 By Abigail Winters, Staff
April 14, 2016
The dystopian novels have been in for a while now. The doom and gloom of the future have been pounding away at our brains. For those who are needing an escape from the dystopias but wanting a fiction novel set in the present time still filled with action and intensity, Every Fifteen Minutes by Lisa Scottoline is the book to ease you mind.
This story is set in present day with the main character, Eric Parrish, being the chief psychiatrist at Havemeyer General Hospital. He is currently struggling with a divorce with his wife and trying to gain partial custody of his daughter Hannah. While trying to deal with his personal problems, he is also trying to help a seventeen-year-old boy, Max, who is struggling with the loss of his grandma, who was his only friend. Max is not only suffering from depression but also OCD. The more Eric learns about Max, the more he realizes how much trouble he is getting himself into. Max is a suspect for a murder. By helping Max, Eric has to make a crucial decision—will he break the confidentiality of his patient to save himself from prison? Or will he help Max prove his innocence?
This exciting novel switches from Eric's point of view to the sociopath's.
"Bestseller Scottoline casts an unflinching eye on the damaged world of sociopaths in this exciting thriller," Publishers Weekly said.
In Every Fifteen Minutes, the anonymous sociopath lets the reader into their mind as they try to destroy Eric's world. The book is laced with twists and mysteries. You try to piece it together yourself and when you finally think you have outsmarted the book, it reveals a new element leaving you breathless and confused. The only option is to keep reading. It will keep you guessing until the very end.
The adrenaline you feel while reading this book captures you.
"Nail-biting…heart-pounding climaxes…pulse-racing twists. Scottoline grabs her readers by the jugular and won't let go," Library journal said.
This stimulating book is a good quick read. There are no sequels. It's the perfect way to relieve yourself of all the other novels bombarding you, or maybe you just need a single book to read while waiting for the sequel of another series you are reading. Either way, this is a great read set in the present day.